Monday, December 28, 2009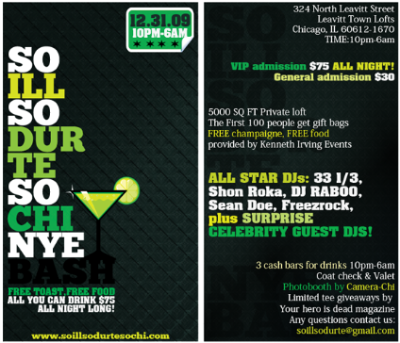 Check out the all-star line up. Check out the website with full details!
http://soillsodurtesochi.info/blog/
Posted by

Shon Roka
at 9:37 PM
No comments:


Tuesday, December 15, 2009
What up everyone!? Went to B96 Jingle Bash, yes B96 Jingle Bash. I DJed for Chi-Town Finest Breakers (My other family) again at the All State Arena for Mayor Daley and Chicago Sports Fest! They sure did get it in to kick everything off to get the event started! It was insane how many people were there at the SOLD OUT event, featuring such act as David Guetta, Jump Smokers, Keri Hilson, Sean Kingston, Justin Bieber, Jeremih, Pitbul and many more!

I captured a few moment of the event in the V.I.P. section where Chi-Town Finest Breakers, DJ SHON ROKA & DJ Westside were sitting.


Posted by

Shon Roka
at 2:32 PM
No comments:


Wednesday, December 9, 2009
I've been following these guys for awhile now. They put some Common remixes out that really caught my attention. Beatnick & K-Salaam have that smooth underground hip hop feel that will truly catch your attention. After that I noticed their name everywhere. Working with such artist as Mos Def, Pharoah Monch,, Dead Prez and many more. I just got to preview their behind the scene footage of the lastest project "Don't Die" featuring Bun B., 88 Keys , Colin Monroe & Actor (from "The Wire") Julito McCullum. The beat is hot and I'm sure the verses are on point! So keep a look out for the single and video!
Check the BTS here:
http://vimeo.com/8069159
Posted by

Shon Roka
at 12:56 PM
No comments:


I came across Sabrina on digiwaxxmedia going through the record pool heat. Her powerful voice captured my ear right away. After I left my review I reached out to her page. She hit me right back with a "Thank you for finding me" She has worked with Nappy Roots and Shady Records. Right now she is currently pushing a single "They Don't Know What I've Been Through"
She gets a Official SHON ROKA stamp! Check her out at
www.yoursabrina.com
Also click here to check out her lastest article on
www.hiphopdx.com
!
Posted by

Shon Roka
at 1:50 AM
No comments: